You can see Arthur on stages with reasonable frequency. Details of performances should show up under these words…
June 2019
Friday 7th June, – Laughs, Stories, a Song and a Poem – EM Forster Theatre – Tonbridge School – 7.30pm – TICKETS
Friday 21st June – SYD (feat. The Smithereens) – Brewery Arts Centre, Kendal, Cumbria – 8pm – TICKETS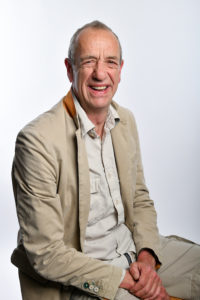 SYD – Soho Theatre Run.
The story of an ordinary man who lived through extraordinary times, told with love, laughter and song.
Arthur Smith's hit new show opened to sold-out houses and critical acclaim at the Edinburgh Fringe last year. The comedian, again accompanied by the mellifluous Smithereens, tells the story of his own father.
Syd Smith fought at El Alamein, became a P.O.W., and ended the war in the notorious Colditz Castle in Germany. In the 1950s PC Syd patrolled London's South Bank and met a gallery of characters, whom he tried his best not to arrest.
Friday 28th June – SYD – Soho Theatre, London – 7.30pm – TICKETS
Saturday 29th June – SYD – Soho Theatre, London – 7.30pm – TICKETS
---
July 2019
Monday 1st July – SYD – Soho Theatre, London – 7.30pm – TICKETS
Tuesday 2nd July – SYD – Soho Theatre, London – 7.30pm – TICKETS
Wednesday 3rd July – SYD – Soho Theatre, London – 7.30pm – TICKETS
Thurdsay 4th July – SYD – Soho Theatre, London – 7.30pm – TICKETS
Friday 5th July – SYD – Soho Theatre, London – 7.30pm – TICKETS
Monday 8th July – SYD – Soho Theatre, London – 9.30pm – TICKETS
Tuesday 9th July – SYD – Soho Theatre, London – 9.30pm – TICKETS
Wednesday 10th July – SYD – Soho Theatre, London – 9.30pm – TICKETS
Thursday 11th July – SYD – Soho Theatre, London – 9.30pm – TICKETS
Friday 12th July – SYD – Soho Theatre, London – 9.30pm – TICKETS
Saturday 13th July – SYD – Soho Theatre, London – 9.30pm – TICKETS
---
Friday 19th July 2019 – Guildford Fringe Festival – Laughs, Stories a Song & a Poem – TICKETS
Friday 26th July 2019 – Bilton Club, Harrogate, Laughs, Stories, a Song & a Poem – TICKETS
---
August 2019
Friday 2nd August – Syd – Edinburgh Fringe Festival – Pleasance Courtyard – 1.40pm  TICKETS
Saturday 3rd August – Syd – Edinburgh Fringe Festival – Pleasance Courtyard – 1.40pm  TICKETS
Sunday 4th August – Syd – Edinburgh Fringe Festival – Pleasance Courtyard – 1.40pm  TICKETS
Monday 5th August – Syd – Edinburgh Fringe Festival – Pleasance Courtyard – 1.40pm  TICKETS
Tuesday 6th August – Syd – Edinburgh Fringe Festival – Pleasance Courtyard – 1.40pm  TICKETS
Wednesday 7th August – Syd – Edinburgh Fringe Festival – Pleasance Courtyard – 1.40pm  TICKETS
Thursday 8th August – Syd – Edinburgh Fringe Festival – Pleasance Courtyard – 1.40pm  TICKETS
Friday 9th August – Syd – Edinburgh Fringe Festival – Pleasance Courtyard – 1.40pm  TICKETS
Saturday 10th August – Syd – Edinburgh Fringe Festival – Pleasance Courtyard – 1.40pm  TICKETS
Sunday 11th August – Syd – Edinburgh Fringe Festival – Pleasance Courtyard – 1.40pm  TICKETS
Monday 12th August – Syd – Edinburgh Fringe Festival – Pleasance Courtyard – 1.40pm  TICKETS
Tuesday 13th August – Syd – Edinburgh Fringe Festival – Pleasance Courtyard – 1.40pm  TICKETS
Wednesday 14th August – Syd – Edinburgh Fringe Festival – Pleasance Courtyard – 1.40pm  TICKETS
Thursday 15th August – Syd – Edinburgh Fringe Festival – Pleasance Courtyard – 1.40pm  TICKETS
Friday 16th August – Syd – Edinburgh Fringe Festival – Pleasance Courtyard – 1.40pm  TICKETS
Saturday 17th August – Syd – Edinburgh Fringe Festival – Pleasance Courtyard – 1.40pm  TICKETS
---
September 2019
Tuesday 3rd September 2019 – Full Frontal Comedy – Watermans Arms, Eton
Friday 27th September 2019 – Laughs, Stories, A Song and A Poem – Square Chapel Arts Centre, Halifax – TICKETS
---
October 2019
Friday 4th October 2019 – Bridport Arts Centre, Bridport – TICKETS
---
November
Saturday 23rd November 2019 – Arthur Smith & Syd – The Constitutional, Farsley, Leeds – TICKETS
---