Arthur Smith tries goat yoga in Suffolk
---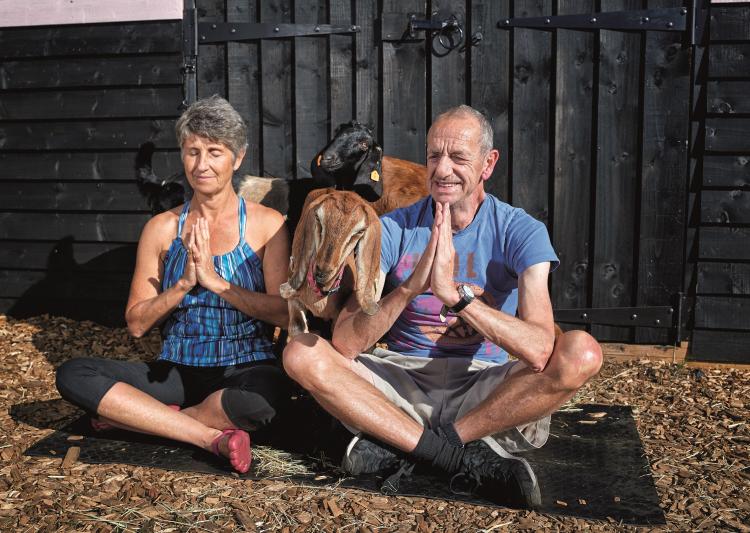 Every morning of my life I get up and do some yoga – or rather my own version of this ancient discipline, in which I take a big breath, enjoy a damn good stretch, and then put the kettle on.
Traditional yoga, of course, is more complex and tends to last longer than my own 40-second workout. My old school friend Simon, who looks about 10 years younger than me, has long suggested I would enjoy the benefits of this activity, but I had always feared feeling foolish, walking along with my mat, wearing a silly outfit and trying not to laugh at the earnestness of it all.
However Simon's nagging finally got to me, so I made it a pre-New Year's resolution to go to yoga. And, to put one over on my old chum, I decided to do it with added bravado, which is how I found myself on a farm, not far from Ipswich, sat in the lotus position and being sniffed by two small goats.
Yoga began in India over 2,500 years ago and is now practised by millions of people all over the world. Goat yoga, on the other hand, has only been around for a couple of years and there are, understandably, far fewer places where you can go to do it. One of these is Skylark Farm, near Woodbridge, a quiet pastoral heaven in the hinterlands of Suffolk.
At Melton station I was greeted by my teacher for the day, the kind and understanding Diana, who explained to me that goat yoga is the same as normal yoga, except that you do it in the company of baby goats. No yoga experience is required and the classes are advertised as 'suitable for everyone from 8 to 108' (which made me feel sorry for any enterprising 110-year-olds).
Diana drove me to the farm where owner Emma will, if you wish, demonstrate the art of hand milking a goat and let you have a try at it yourself. That would have been fun but I was here for the yoga, so I went and put my outfit on (a pair of shorts and a tee-shirt) while Diana unrolled the mats.
It is some years since I sat cross-legged, but with Diana's gentle teaching I managed it surprisingly easily and was soon opening my hands, flexing my muscles and breathing the crisp air, sweet with those unfamiliar farmyard smells. And then Amber and Ginger, two baby goats, sauntered through a gate to join us, snuzzling, sniffling and bleating joyfully at their own cuteness.
My new pals ignored the instructions Diana gave but took great pleasure in snuggling up to me and having a nibble on my trainers. I kneeled with my arms in the air, my deep breathing interrupted only by the giggles I got from the antics of Amber and Ginger.
As I made my way back to the city I reflected it had been a genuinely agreeable experience, which left me both relaxed and invigorated, with an added sense of contentment derived from my solidarity with these other two ludicrous creatures.
Apparently you can only do these sessions with small baby female goats, so Ginger and Amber were due to leave the job soon and go on to more senior positions elsewhere on the farm. Never mind, come Spring their younger sisters will take over. You should give it a try and go meet them. Now I am going to ring Simon and tell him all about it. And a Happy New Year to you.