'Grab a pork scratching – it's my 30th anniversary'
---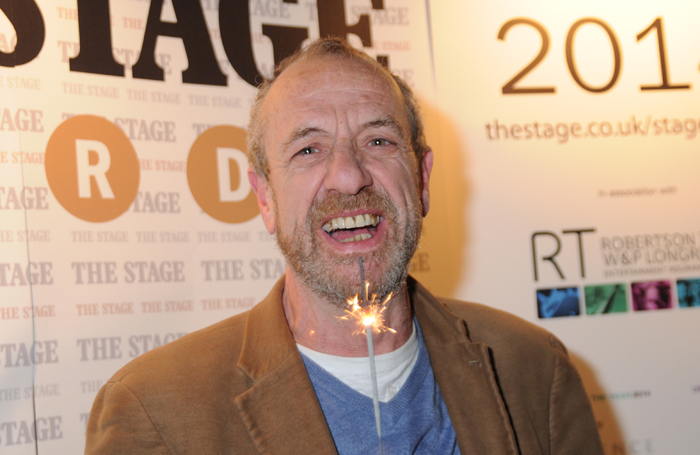 Good day to all of you, my noble readers, great to see you. Welcome to this '30 years of writing my column in The Stage' celebration, hang your coats on the bannister, grab some Tizer and a pork scratching and let's party!
It is not actually that long since my first essay in The Stage, but never mind the details, I am just trying to leap onto this particular bandwagon while it is parked outside the pub.
I first spotted it at the Edinburgh Fringe before last, when I took part in some '30 years of the Pleasance' events. Not to be outdone, last summer the estimable Karen Koren invited me to take part in various '30 years of the Gilded Balloon' gigs, before I came down to London for the 30th birthday of the Comedy Store Players, followed soon after by '30 years of Downstairs at the King's Head' (in case you don't know, this is a beloved venue in Crouch End).
If there are any pork scratchings left after my knees-up at The Stage, I can get them out for my 30th '30-years-of' show which must surely be coming up soon.
Thirty years, I suppose, is a generation and if something has lasted that long then it is truly established and must be of a decent quality.
An anniversary is also a good excuse to garner some publicity and perhaps to bring together people who may not have seen each other for half a lifetime.
Inevitably old stories are repeated ("remember that time we burned down the Gilded Balloon? That was a laugh") and long disappeared characters are remembered – most usually the mythic maverick comedian Malcolm Hardee.
Along with the reminiscences, the drinking and the dancing comes a joy that you have come so far, but also a kind of regret for your lost youth, that time when the world was waiting for you, when you were brimming with vigour and you could not really envisage anything lasting 30 years.
As Victorian stand-up Alfred Lord Tennyson riffed, "So sad, so fresh, the days that are no more."
So that's the end of my The Stage column party, can you all sod off now? Really there is no need to send a thank you card – I have had enough of the past for a bit. I want instead to head into the future by announcing my forthcoming therapy/comedy course entitled, 'Mindlessness for beginners'. It is aimed at all of you who wish to find peace of mind but can't be arsed to get up early for yoga, for those of you who would rather be in the pub than chanting naked up a mountain, or who worry that your spiritual journey may involve a bus replacement service.
I shall be presenting this radical new therapy around the country next year and probably in Edinburgh too and, if you choose to join me – who knows, maybe we can all meet again in 2045 to celebrate 30 years of mindlessness.
I wouldn't bank on it though.